ENGAGING THE UNENGAGED
by Isobel Kleinman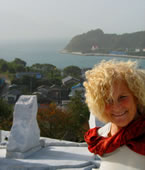 When I told a school psychologist friend of mine that I was supposed to write an article about drugs and alcohol awareness, she whispered, in surprise, "I hope you know the drug of choice these days." Looking somewhat defeated after her day of interventions, she continued by saying that the drug of choice is prescription drugs. I wondered how her kids - boarding school students - could get them. That is when the questionable virtue of modern life reared its head. "Kids today can get anything, even prescription drugs," she said. "They get them on the internet."
Scary, I thought, and what a crying shame that kids still take drugs to get high. That is when I decided that this article should be about helping kids get something from being involved that they cannot get from drugs. If done right, perhaps we can give them their "high" through activity. Truthfully, if we do not engage our unengaged students, we fail doing what could be our most important mission.
So how do we engage the unengaged? It is not quick. It is not easy, but it can be done even when you welcome kids on opening day who make clear, in the many ways they have, that they simply do not want to be there. I can relate. Even great teachers do not start out with great classes. Yes, you will get kids who would rather sit out then participate, and others who have no interest passing at all. It is for those kids that a change in perception is necessary. It is precisely for the unengaged kid that we must make gym seem like an adventure rather than a pain.
How can we gauge when we have done that? I look for smiles and listen to the pre and post class chatter. Getting kids involved will result in all of that, but it could take a while and you could have some unhappy movements along the way. But, when it happens - and it will - you and your students will be left with wonderful memories, memories of the camaraderie and accomplishments gained from the activity itself. To get there, though, kids must participate. That means pushing past their resistance. That means not only getting them moving, but getting them to recognize what they have accomplished on their own and with others. That means making every one of them important when they enter your class.
Each grade level has resistance points, though some are common on any level. The big one is the hatred of dressing for class. Understand and even sympathize, but when rules make sense you have to insist. When the rules do not make sense- during the folk, square and social dance units and during golf or archery - you can suspend them and make everyone happier. The kids will welcome not changing, will look at you in a different light, and you will have ten more minutes to get them loving the activity.
Speaking of not dressing for dance, have you ever taught folk, square, or social dance? Sorely, it is the most under-represented learning activity in physical education though it is aerobic - at all intensity levels - and can please the non-competitive student and the kids who would rather sit out then dress for gym. Dance is so appealing to the typically unengaged student that if it is still absent from your program, you should do what it takes to include it. Don't think it is easy, but don't get discouraged. There is always a student or two in every class who will pick up what you are teaching and help you along.

Teaching dance is worth it. First you have to get the kids over the shock that they are coming to gym and won't be playing a game. As a first year teacher (in '67), I introduced a three-week ten dance unit to my junior high. Pre-title IX, I had only girls. Surprisingly, I was warned by one of my leaders that she would not be cooperating in gym during dance, she was that upset. Then, despite those who could not imagine dancing in gym, who hated dressing for class, who hated gym in general and who hated me in particular for "making" them do what they didn't want to do, in a lesson or two, they came running in, asking me to put on the music so they could dance before class officially started. It probably helped oodles that they didn't have to dress in gym clothes, but I can tell you that those years were fantastic. There was so much enthusiasm and it was infectious. The gym was near the cafeteria so that once the joy of dance caught on, and because having more kids on the dance floor was no problem, kids asked to join us after lunch and participation swelled. Even some guys joined in and it was fantastic.
Almost magically, I had won over so many students during that one unit that it did not matter what I taught after that. I was with them, and they with me, and no matter what came next, they were in the palm of my hand. The boys were another story. In large numbers, there seemed to be too much pressure to "be the man" and what they thought that meant. Almost to a one, their resistance was unrelenting. If they went to a wedding, or a place where they heard some music that they learned to dance to, they couldn't stop telling me how they loved getting on the dance floor.

Other than that, and without a male role model around, those early years were no fun for anyone. I persevered because it was important. I eliminated partner dancing. Then I found a way to fit dance into the fitness unit. I used some folk dances, created some line dances to great songs, and compiled a thirty minute dance-aerobic routine for each grade level. In middle school, I used dance-aerobics as the cardio approach to fitness. Where strengthening was needed, I added exercises to music that were specific to those muscle groups. In ninth grade and up, students got a choice. Dance-aerobics with me, or the weight room with a colleague.
With few exceptions, the guys chose the weight room. Happily, all was not lost. Years later, as juniors and seniors, and with rhythms in their background, the boys were agreeable to learning some social dance. I can only imagine how much easier it is now that Dancing with the Stars is so popular on TV. I pined for a male role model for years and found none. Now, when things get rough I can simply tell my kids that they have to watch and critique some famous guy dancing on TV. Dance is healthy, lots of fun, and a way to engage the unengaged, but leaving the negative stereotyping behind is a must!
Did you notice that your more difficult classes do not follow rules? Can you think of anything you teach that allows them to be themselves? I can. It is Educational Gymnastics. Would you believe that the very classes that drove me crazy during other units turned around during educational gymnastics? Yes, my most impossible kids took to Educational Gymnastics in ways I could never have imagined. They were focused, active, and working to meet challenges - my challenges - and it was a stunning reversal. It must have been the playground look of the gym and the approach.
Educational gymnastics encourages thinking out of the box, being creative and working on one's own skills level. There is tons of activity throughout the lesson, but all the motion reflects personal choice. And by asking your class to see how they can, for instance, be big while they move along the ground, you will get lots of variety. Ask again, and each student will try another way and you will get more variety. Ask again, and it goes on. Vary your request for big more, and you get more. Students all work, in their own space, their own mindset - until I intrude and ask them to do more - and their own rhythm.
Yes, my most difficult students were engaged in a way that they had never been engaged before. They were learning, not specific floor or apparatus moves, but to use what they knew and improve it, explore it, and exaggerate it until what they did almost became an art form. In the process, they learned to appreciate their own movement and that of others.
How wonderful to teach gymnastics without fear, yet with lots of activity! How wonderful to guide movement choice and watch every student find his or her own way to work, whether they had to go fast or slow, move over or under, move by pushing or pulling, be big or small, high or low, work in a small space or a large one, work in pairs to mirror or duplicate, or any of the many other themes that had them challenging what they could do in different ways. Every day they got another theme, another way to explore floor work or the equipment, another way to think, to move and to shine. Every day, no matter the theme, they learned to control their weight, their flow of movement, their extension, their timing and their use of space.
To my surprise, my most difficult classes were also my most creative and I found myself applauding them continuously. That appreciation - loud and clear - not only created a new and wonderful learning environment for them, but elevated their sense of self. Finally, they stopped challenging me and started working cooperatively. Not only was the miracle of engagement a way to help them find a place to shine, but the warmth we all felt during those lessons endures to this day!
I will end by saying that teaching physical education is a bit of an art in itself. We teach something new, and find weakness as students learn it, and privately, in the public space of a gym - we help students overcome their weakness. We must prod and chastise, but do it with a smile. We must control frustration while remembering how important it is to tell kids when they do something good, and mean it when we say it. We must create an atmosphere that is embracing while pushing for growth. We must make a disciplined environment fun, too. We must make activity an adventure, and make sure that every student feels an important part of it. We must monitor competition so that it is exciting, not threatening, and despite that we must add programs that engage the non-competitive and the creative spirits in the group. In short, despite the politics attacking our profession, despite classes that are ridiculous in size, despite shortcomings in space and equipment, we must perform little miracles every day. If we are genuine about our caring, we will create those miracles.
These things do not happen overnight. As a student must work, so must their teacher. That means introducing things that engage everyone at some point during the year, and hoping that the feeling they get from being involved is so powerful that they will stay involved throughout the school year and throughout their adulthood.
By the way, if you need resources for running the programs mentioned, and have no time to take a course or learn about it on your own, get a copy of my book COMPLETE PHYSICAL EDUCATION PLANS FOR GRADES 5 – 12. This is not meant to be a shameless promotion. The reason I worked to make a second edition with so much more detail, and so many new offerings, was so I could make it easier for you to include dance and Educational Gymnastics. All the dance instruction (in fact all instructions for every skill in each unit) along with a very detailed - three unit - chapter in Educational Gymnastics (and Lacrosse and Wrestling) is right there, clear as a bell, in the second edition. So, whether you use your imagination or do it my way, please do it. Let's help kids get "high" from activity.
Good Luck!