EDITORIAL


Circle of Life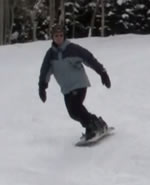 I write this month's editorial with a mixture of excitement and great sadness. By the time you read this, if all goes well I will be the proud grandparent of a newly born healthy little girl. This will be my second grandchild. If you are a grandparent or a parent you'll know how exciting this is. It's a time of new beginnings, of wonderment and joy, and a reminder of how life goes on despite seemingly never ending stories of tragedies, set backs, and sadness. Simultaneously, just 25 miles from my home, rescuers continue to desperately search for survivors of the horrific landslide that in seconds swept away homes and ended lives alongside the picturesque Stillaguamish River in the tiny town of Oso, Washington.
Both personally and professionally, there seems no escaping a life destined to be a rollercoaster ride of ups and downs, thrills and spills, joys and sadness. Last month, I reported a few professional successes and disappointments. A threat to empower ROTC instructors to teach physical education was rejected in California, but a similar proposal loomed in New Mexico. In Ohio, legislators supported a house bill not allowing PE and health to count as electives for graduation, together with a bill counting band, cheerleading, and athletics as physical education. And in my own state of Washington, Highline school district administrators now insist that newly hired elementary PE specialists must also be certified to teach in the classroom if they want permanent teaching contracts.
Brilliant! Let's plan on using PE specialists to fill in for classroom teachers. That will surely boost test scores, never mind the quality of the PE instruction we can anticipate when classroom teachers take over our gyms. Did these educational leaders take early advantage of WA State's recent change in the marijuana laws? Certainly, ensuring a quality education for Highline school kids wasn't foremost on their minds.
As distressing as these events can be, and certainly I respect how stressful they must be for those directly affected, this news shouldn't surprise us. It's pretty much cyclical. Just as some school administrators or state legislators try to cut us or reduce our effectiveness, others recognize that kids need physical education to succeed in schools. The Move to Improve Act recently passed by the West Virginia Senate for example, would require middle school students to have PE daily. And just recently, I learned of a private school in Corvallis, OR that for years has required students to participate in daily PE (as well as study music and a second language) and yet graduate some of the best academically prepared and healthy students parents could hope for.
Master of Science Online
Physical Education & Athletic Administration Options
Central Washington University
Starting Summer 2014
Contact Dr. Kirk Mathias for details
mathiask@cwu.edu
I encourage you to read more about our professional ups and downs as well as access some great teaching and informational documents by perusing the pelinks4u News column. And please, do consider sharing these resources (via email, Facebook or Twitter), with your colleagues. Who knows, you might reignite a passion for our profession long since doused by dopey thinking?
Turning to good news, we have a wonderful selection of original articles and personal essays in this month's pelinks4u. Phillip Ward starts us out by sharing his view of physical education's purpose and how to achieve it, then Rhonda Holt suggests responses to the question we perennially face, "What do you do?" Brian Kooiman continues debate about the value of online physical education and shares positive outcomes from his research findings. Steve Virgilio helps us to understand why we do what we do in PE by introducing us to six relatively recent PE "trailblazers."
In a thought-provoking essay designed to stir some self-reflection, Brian Culp points out that what students and teachers say during PE can have serious negative consequences. Brian shares suggestions for combating the problem. Finally, two articles focus on sports. Heather Van Mullen points out that Native American women athletes have been ignored, more than most, among minority ethnic groups. But today, two Native American sisters are stirring huge media attention and perhaps changing public perceptions. We then conclude with links to the second of a three part series of podcasts delivered during the Bob Frederick Sport Leadership Lecture Series and recorded by Pete Van Mullem.
I'm headed to St. Louis in a few days for the AAHPERD Convention and as I mentioned last month, please say "Hi" if you know what I look like and happen to see me. Hint: I won't be in my snowboarding clothes! I hope you will then join us next month for some sharing of convention news and more great pelinks4u essays, articles, and news stories. Be safe.
Steve Jefferies, pelinks4u publisher
---
Excellent resource for our teen students and it's free! -- Free Online GED