STARTING AN ADAPTED AQUATICS PROGRAM
written by Phillip Conatser, contributing author Eric James, University of Texas Brownsville
Although at this time of year summer programs are being planned and begun, it is never too late to offer an adapted aquatics class. Parks & Recreation, YMCA's, Boys & Girls clubs, Universities, and/or privately owned pools could offer swimming classes for children and adults who have disabilities with minimal modification. This article will present simple planning and instruction strategies that can help facilitate a successful adapted aquatic program.
First-things-first "Attitude"
Most new programs are started by an individual(s) (aquatic instructor) willing to teach children with disabilities. If this instructor is also determined and does not give-up when presented with an obstacle, then an adapted aquatics class will probably be implemented. Starting a new program can have many challenges such as lack of support, others' fear, money, accessibility, pool conditions, and time. Again, an instructor that is willing, determined, and has a positive attitude should feel confident that all problems can be resolved.
A strong suggestion for any new program that will help limit possible roadblocks is to make the program a "pilot project." Start small, only offering 1 or 2 adapted aquatics classes servicing 5 to 20 children with disabilities. Starting small will allow for more flexibility (planning, instruction), less support, money, and resources. Smaller projects are also less threatening to pool owners and supervisors.
As time passes, and the adapted aquatics class progresses, fears associated with teaching swimming to the disabled will decrease and more favorable attitudes will appear. Also, instructor(s), staff, and others directly involved will have an opportunity to gain knowledge, experience, and confidence before venturing out to larger and bigger programs.
Where to offer an Adapted Aquatic program?
A therapy pool specifically designed for children with disabilities would be the optimal choice for where to offer an adapted aquatics program, however many towns do not have this type of facility. Therefore, adapted aquatic classes were historically taught in a regular aquatics setting. When choosing a pool it is important to consider (a) water temperature above 84 degrees (as it is not comfortable for children with disabilities), (b) the need for an ample shallow area in the pool for instruction (so children can stand chest deep), and (c) the existence of a safe pool entry (sloped, chair lift, steps).
Other considerations may include accessible parking, locker rooms, and shower areas. Overall accessibility issues can oftentimes be minimized by having the staff, parents or instructors provide verbal directions and/or physical help to the child. Assistance may be needed with opening doors, going up/down wheelchair ramps, maneuvering barriers, and knowing where to go in the facility.
When choosing the pool to use for your program, also look for "family" changing areas. Most children with disabilities need help finding their locker, showering, and changing clothes. Often, the opposite gender is needed for help. If the facility does not have a family changing area, choose a class time when the regular locker room is not busy; provide a portable curtain, or set upright gymnastics mats for privacy.
Pools open to the community (Universities, YMCA's, Clubs, privately own pools) by federal law (American Disability Act, 1990) must have accessible facilities and programs/services for people with disabilities. This means, if they do not currently have an adapted aquatics program then creating a new AA class should be a priority. With approximately 12% of the United States population having a disability (60 million), there should be plenty of people willing and available to take several classes.
How do we find children and/or adults with disabilities to participate in an Adapted Aquatic program?
Contact local:
| | |
| --- | --- |
| - disability support groups | - University disability service director |
| - special education teacher | - area Special Olympic director |
| - special education director | - American for Retarded Citizens (ARC) director |
| - rehabilitation centers | - Mental Health & Mental Retardation (MHMR) director |
These are just a few suggested contacts that might be useful. Remember every town, organization, and director are different. Some are very willing to help while others are less. For example, some rehabilitation centers may not be cooperative because they already offer therapeutic aquatics, while other centers that do not currently offer aquatics will be excited to provide this type of experience to their clients. Find directors, teachers, or supervisors that want to help and be part of such a program.
Rehabilitation centers can usually provide the adapted aquatic program with orthopedic conditions (cerebral palsy, muscular dystrophy, multiple disabilities), Special Olympics (intellectual disabilities, autism), disability support groups (multiple sclerosis, spinal injury, intellectual disabilities, autism), Universities (blind, deaf, wheelchair users) and if all else fails special education works with a wide range of abilities. To look for older adults with disabilities contact MHMR, ARC, support groups and/or Special Olympics.
Before contacting these groups have a facility/pool secure for use, possibly dates, times, total enrollment, and what type of disabilities. Because adapted aquatics program are typically small at first, this may initially limit the variety of disability populations they serve. However, try to have a mix of abilities and be open to all disability levels (mild to severe). This will help instructors develop broader teaching skills as well as not excluding any specific disabilities. Note: most programs are for mild disabilities, not severe.
Paper work
Release forms signed and dated before entering into the water. Standard aquatic release forms will work. However, include medical concerns such as if they have seizures, skin or eye sensitivity, allergies, as well as the type and level of disability, the best mode of communication, and any other characteristics that might be useful.
Introduction form should have dates, class times and locations, and parking issues (handicap). Also, include who is responsible for changing clothes, staging area before/after class, and protective wear (swim dipper, goggles, ear/nose piece). In general, describe the adapted aquatic program purposes and goals.
Pool safety rules should be given and explained to parents and children, and also posted in the pool area and locker rooms. Standard pool rules apply (e.g., no running, splashing, dunking, horseplay) as well as other rules like always having a lifeguard(s) on deck when people are in the water, and that instructors should never leave children alone in and around the water. Note that children with intellectual disabilities and autism often will not understand rules so it is important for parents to help enforce safety.
For example, children with autism may try to run away. If the instructor is in the water he/she may not have time to catch them leaving the pool area. Parents who are not in the water could help stop these children. Furthermore, children with disabilities may try to hit or bite others. If a child persists with this type of behavior the instructor could distance them from other children or remove them from the pool. Note, if parents are not present to assist instructors with inappropriate behaviors an incident report should be written. This report should describe the child's behavior and how the instructor responded. The report can be used as a learning tool whereby parents and other staff collaborate for possible behavior management strategies. An incident report should also follow any injuries that may occur.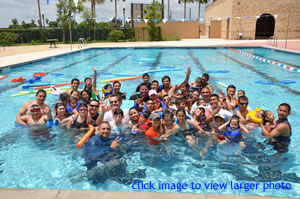 Assessment prior to instruction is necessary for the success of each child. Children with disabilities are not a homogeneous group. Every child is unique in how they process information, communicate, socialize, and their physical abilities to perform skills. Assessment will help the instructor teach to each child's individual and unique aquatic abilities. For adapted aquatic assessments go to ADAPTED AQUATICS ORGANIZATION or SPECIAL OLYMPICS.
Volunteers
Volunteers are often readily available. However, finding help That is reliable and knows how to teach aquatics can be difficult. At the same time, a powerful asset in volunteers is having a positive attitude. Also, if volunteers are willing to learn, are not overwhelmed with time commitments and responsibilities, and have instructions explained clearly, greater reliability will usually follow.
Include volunteers in the assessment process, goal setting, and teaching strategies. A pocket reference guide with simple instructions, check lists, and pictures of the aquatic skills will be very useful. Laminate/seal instructions so volunteers can take these with them into the water. Because volunteers may not be water safety instructor certified, one-on-one (severe disabilities) or one-to-three (mild disabilities) teacher to student ratio usually works best.
Possible Volunteers:
| | |
| --- | --- |
| - Peers (same or different age) | - College students (kinesiology) |
| - Special Olympic athletes (swimmers) | - Retirees |
| - Military | - Swimming team/club |
| - Parents | - Siblings |
Equipment ideas
Equipment should be placed pool side or in the water for easy access.
Have different type, size, color, length, weight, and textured equipment.
Have lots of equipment.
Have life jackets, mats, noodles, bum bells, tubs, rafts, fins, goggles, masks, snorkels, balls, nets, baskets, pails, rubber chickens, diving rings, boats, sponges, and just about anything that floats or sinks but will not hurt the children.
Be prepared to modify equipment by cutting, taping, combining, and formfitting to help facilitate movement and/or safety.
Storage cabinets, containers, or a closet. With lots of equipment (e.g., 10 inflated tubes, 8 beach balls, 13 life jackets, 4 large therapy mats, etc.) ample storage areas are need. Equipment will also need to be stored in a well-ventilated area.
Have extra towels, sun screen, and lotion.
Have a "good" First aid kit.
Provide shaded area for observation (parents).